4 Reasons Why Media Making is Critical for Youth
In this post, which was originally featured on the EDC website here, YouthLearn's Tony Streit and Wendy Rivenburgh discuss why schools and educators should create opportunities for their students to make media.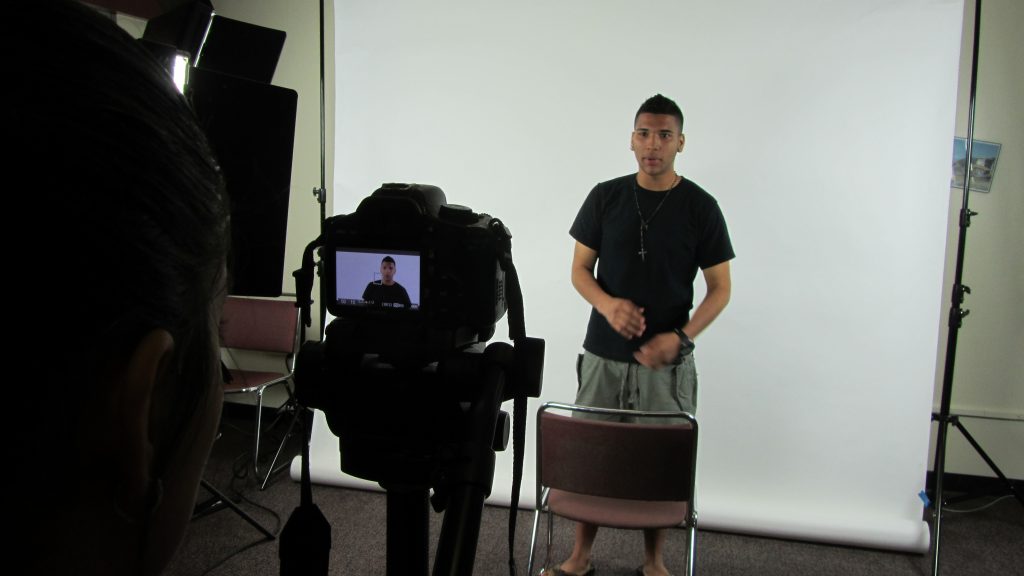 It was the late 1980s, and EDC's Tony Streit had just been asked to help a group of high school students make a documentary about their own lives. Streit was skeptical. How could he get them to make something really worthwhile?
It was a project that changed his life.
"That summer, I saw how storytelling could change young people's perceptions of themselves and the world around them," he says.
But despite the fact that today any teenager with a cell phone can shoot, edit, and share photos and video for the world to see, many schools still do not offer ways for young people to develop their media skills. Streit and EDC colleague Wendy Rivenburgh, who have collaborated on youth media projects such as Adobe Youth Voices and YouthLearn, believe this is a huge missed opportunity. Here, they offer four reasons why media making belongs in school.
Youth learn more about themselves.
More than any individual creative or technical skill they might develop, it's the self-discovery process that makes media making so important to young people. When they create a media project about an issue, students have to confront their own feelings and biases about that topic. And when they finish their project, their ideas are available for others to see.
This process is empowering, says Streit. It's also rare in many schools.
"Young people would often look puzzled when I asked them to make something original about themselves or their community," he recalls. "They had never really been asked to do this before in a school environment. What sort of message does that send to students?"
Young people build skills they can use in school and careers.
Building a compelling media project requires skills beyond learning how to use the tools of the trade. Students also apply their critical thinking skills when they research an issue, build an argument, and then support a viewpoint with facts and interviews. Participating in group media projects also helps students develop another needed skill: collaboration.
"Regardless of the industry, these are all the things that we know employers are looking for," says Rivenburgh. "The skills that students develop when they make media will serve them well, whether they go to college or right into the labor market."
Creating media also helps students decode the messages they are bombarded with every day—essential for their growth as citizens who are able to navigate a media-saturated environment.
"Media illiterate young people and adults can't effectively participate if they don't understand how they are being influenced," she says. "So youth media making is as much about media literacy as it is about creative expression."
Students become active, informed members of their communities.
Youth media making isn't just about art, either. Rivenburgh explains that youth media projects can help young people feel empowered to speak out about issues of importance.
"The best youth media activities are based on the idea that young people are problem solvers, and are capable of articulating the things that matter to them," says Rivenburgh. "Making media is a way to expose the difference between the reality they are living in and the better world they envision."
Streit agrees. He recalls one film, produced by students in Chicago, which juxtaposed the reading of the Gettysburg Address with footage of a Chicago housing project being destroyed.
"Young people who contribute to the telling of stories from their communities begin to see that raising questions, challenging the status quo, and voting their conscience are their right and their obligation," he says.
Collaboration deepens the relationship between educators and students.
"The process of making media helps students express themselves and helps teachers see the world through their students' eyes," says Streit.
Teachers who participated in AYV often told Streit that the process of making media with students improved the bonds between them. Students were able to see their teachers as true collaborators, he says.
Rivenburgh has also experienced this connection, such as at an AYV showcase event in Boston where students were presenting the media projects that they had been working on for months.
"Student after student gave a shout-out to their teachers," she remembers. "Some even invited their teachers to share the stage with them. That creative process inspired a deep connection that wasn't previously there. That's argument enough for the work."
Social Share