Reflecting on a (Still) Bright Future: Media Literacy Week 2016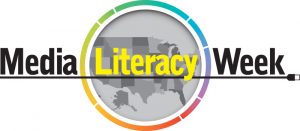 I like to think of myself as a fairly optimistic person. In the more than 25 years I've been advocating for media education, technology access, and youth voice, I've always felt that through this work, we were moving toward some better place as a society. I have to confess though that the last several months have left me rattled.
Who would have guessed that the media landscape would become so toxic? It has become increasingly painful to watch the evening news or check your Facebook account. To now have so much apparent discord and lack of civility is deeply disheartening for me, not only as an educator but also as a parent. Has our country really grown so polarized that we can't decipher good from bad, fact from fiction? It makes me begin to question whether our efforts as media educators have been for naught.
It is easy in these times to get despondent and skew toward the negative. Surprisingly though I still find glimmers of hope, in of all places, my Twitter feed. There are many large and small efforts to help us navigate these times and think positively about the future:
And today, on the first day of Media Literacy Week, I am especially proud to be involved with National Association of Media Literacy Education (NAMLE). After more than 20 years advocating for the crucial skills needed to fully participate in a media dominated world, NAMLE is more relevant than ever and membership this year alone has grown ten fold. I'm honored to serve NAMLE, both on the board and as the chair of our 2017 Conference in Chicago, and excited to see the recognition of media literacy as a vital skill for navigating our times and participating in our democracy.
I still remain hopeful that media literacy education and media making can become a commonplace feature of innovative learning and educational reform. Recently, the communications team here at EDC asked us to reflect on our work in youth and media and identify 4 Reasons Why Media Making is Critical for Youth. In preparation for the article, I looked back over all that we've done here related to media making and was surprised to see both the breadth of work and the natural threads from one project to the next. If there is an overarching theme or driving philosophy, it is perhaps the real belief that young people in fact have much more to contribute than they're given credit for. While I don't get the chance to work directly with young people all that often anymore, when I do, I am so impressed with their creativity and passion, despite in some cases quite daunting odds. That youthful spark is really what we're hoping other educators will discover in their own media making efforts with young people – to see how the process can really build respect and affinity between teacher and learner that is game changing.
Social Share