Youth Media in the Classroom: Lessons from LA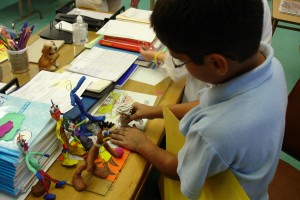 The youth media field is at a compelling and challenging crossroads in its ongoing evolution. Has there ever been a more promising time for young media makers and the field? The number of programs continues to grow. The channels of distribution are numerous. Today media making tools are ubiquitous. New and emerging technology offers media makers the opportunity to share and consume alternative media for easy consumption on the run. Broad access to the high-speed internet affords the chance for anyone to become an alternative media distributor. And, formats for self-expression are as diverse and numerous as the myriad of alternative producers.
In the early days of the youth media movement, providing access to production tools was an essential role for media arts organizations and community access centers. I worked in and ran one of these programs for many years. Get a group on youth media practitioners from the "early days" in a room together and they'll soon be reminiscing about the archaic "portable" equipment used to make those first works. Huge porta-packs with reel-to-reel video tape. Giant one-tube cameras three times the size of a young person's head. Linear editing that left little room for error. Despite the technological limitations, it was always the content of the work that was prioritized. Telling the stories no one else would tell. Helping young people discover their point of view on their culture, community, their own identity. Working collaboratively with professional artists and other young people to bring us a new perspective on our times. These elements have always been at the core of the work.
The vision for LAUSD is one where every child at every grade level will have standards-based education in five core arts disciplines – Theatre, Dance, Music, Visual Arts and Media Arts.
Despite drastic technological advances over a fairly short period of time that would seem to further democratize the media landscape, I remain concerned for the future of youth media as a practice. The abundance of formats and tools has enabled people in all walks of life to become amateur media makers, but not everyone is modeling the values and reflective practices of the youth media tradition. Mainstream media is still a dominant force in the lives of average young people (not to mention their teachers) and imitation is still an easy out. Just having access to high quality equipment in our homes and schools will not guarantee that young people will produce authentic, compelling work. Youth media is ultimately a collaborative process that must be modeled.
Classroom Teacher as Media Practitioner
At Street-Level Youth Media, the Chicago-based youth arts organization that I co-founded and worked at through much of the 90's, working with schools and classroom educators was an important part of our approach. We followed an arts integration model, where the creation of media needed to be carefully woven into core curriculum, to extend the learning and better engage students in their core classroom subject matter. The teacher was an equal partner and co-facilitator in the media making (no sitting in the back of the room and grading papers allowed). They brought their content knowledge while our artists brought technical and aesthetic skills. And of course, the humor, creativity and energy of the young artists were at the heart of the resultant media.
I recall a number of memorable projects from those days. A science module on invention where students produced their own "info-mercials" to promote an original creation. One young boy designed night-light slippers with small flashlights on the toes so one could easily find his way to the bathroom at night. Another video project, produced by eighth grade students whose school was across the street from the now demolished Henry Horner housing development, involved reciting the Gettysburg Address (a graduation requirement) juxtaposed with images of wrecking balls crashing into what was once their home – " . . . our forefathers brought forth this nation, conceived in liberty . . ." Regardless of the subject matter, young people loved having their hands on the equipment, to "play" at being a movie maker or on-screen performer. And, if they learned a little science or social studies along the way, all the better.
Working with classroom teachers was always a challenge. The demands placed on them to deliver on academic outcomes made creative goals difficult to prioritize. The best teachers, though, have always been open to experimentation. They recognize the importance of deep learning – seeing a young person totally enthralled with a process, filled with pride at its completion, asking for more opportunities to learn. Teachers today recognize that media making can offer these kinds of sparks in the classroom. A few school systems are working to make media making and media literacy more central to the curriculum, and one in particular, in what many consider the media capital of the world, is setting very high expectations indeed.
USC and LAUSD Forge a Partnership
The Los Angeles Unified School District is one of the largest and most diverse in the nation. 858 K-12 schools across a 710 square mile area serve some 727,000 students daily. Like many major urban school systems throughout the country, they are working to raise the bar of accountability. Not until recently though did this commitment to high standards include the arts. Like many school districts across the country, funding for the arts had been drastically reduced throughout the 80's and 90's. Nevertheless, it was the vision of many at LAUSD, especially arts education leader Rich Burrows, to reverse this trend and to truly reflect the cultural and artistic values of a city and its surrounding communities that live and breathe the arts.
The vision for LAUSD is one where every child at every grade level will have standards-based education in five core arts disciplines – Theatre, Dance, Music, Visual Arts and Media Arts. I have had the pleasure of advising LAUSD's Arts Education Branch (AEB) on the formulation of media arts assessment standards and have witnessed the conviction they bring to this enormous effort.
Over the last school year, the University of Southern California's School of Cinematic Arts has been a key partner in developing the media making skills of classroom teachers in the district. The School's Institute for Multimedia Literacy (IML) has pioneered a three-year professional development effort in media arts and media literacy, funded by Wallis Annenberg and the Annenberg Foundation. For the third and final year of the grant, the IML has collaborated closely with the LAUSD Arts Education Branch to deliver a year-long, intensive teacher professional development effort designed to do more than just provide technical training to individual educators. USC's model targets the whole school, offering support to principals, IT leaders, and teachers in core content areas such as science or social studies. Seven coaches who are experienced arts teachers provided mentoring and further support to the schools throughout the year.
The 2006-07 training program began with a summer institute at the Institute for Multimedia Literacy on the USC campus. I was asked to serve as a guest speaker and advisor on youth media, along with Tim Dorsey and Miriam Neptune from Educational Video Center in New York, one of the nation's longest running and most respected youth media organizations. USC's training wove together theory and hands-on experiences, with twenty teachers and administrators from the five targeted schools discussing content integration, youth media tradition and program assessment in the morning, then jumping into individual and collaborative media making projects in the afternoon. Weaving the training together were five "enduring understandings" that were reiterated throughout:
Multimedia literacy is the ability to communicate using image, text, sound, movement, sequence and interactivity in combination.
Arts are essential for communication and expression in multimedia.
Media acquire meanings dependent upon context and point of view.
Media analysis is an integral part of media production and provides learning opportunities throughout the production process.
Students have complex background knowledge and experiences related to media and technology that teachers recognize, incorporate, build on, and transform.
The use of enduring understandings is central to the curriculum development model know as "backward design" pioneered by Grant Wiggins and Jay McTighe in their book Understanding by Design and championed by both USC and LAUSD as an ideal way to articulate the "big ideas and questions" in a course of instruction.
I was quite impressed by the high degree of engagement and enthusiasm on the part of the teachers throughout the training. All professional development experiences of this kind have an aspect of tension and challenge, and given that media making or any other form of arts integration could easily be viewed as adding an additional burden on teachers, I was excited to see the close connection between trainers and trainees. I was also impressed that everyone involved saw authentic art making as a key outcome of their curriculum planning. Clearly it helped that this professional development experience was taking place in a fabulous setting – beautiful campus surroundings, high-end equipment at hand for experimentation.
Following the summer institute, teacher trainees were provided additional support by the team at IML as they planned and implemented individual media arts integrated units. Examples of resulting projects include:
Students in a language arts class critically analyzed techniques of persuasion used in television and worked as a group to create commercials using different forms of persuasion.
Students in a visual arts class comparatively examined media imagery of the Iraq war representing Islamic and American points of view and reformulated new imagery based on a balanced understanding.
In a science class, students used media skills to explain scientific concepts in video and PowerPoint.
In a visual arts class, students created a series of projects on the theme of self-portrait, beginning with physical media (mask making) and transitioning to a video or PowerPoint self-portrait.
Students from a special-education small learning community were assigned to script, act, and produce a brief video that dramatized strategies for young people to avoid the pitfalls of alcohol, drugs, and tobacco.
In an art class, students researched and created a multimedia presentation about an artist, and included an expressive work of their own in the manner of that artist.
I left LA last summer with high hopes for the program and I was equally thrilled to return to LA at the end of this school year to find the seeds of the effort by-and-large taking root.
LA Story: Integrated Instruction at Mulholland Middle School
Since when is Play-Doh an essential media making tool? At Mulholland Middle School, if you're in Mr. Bernstein's class and you're working in stop-motion animation, clay figures and paper mache backgrounds are indeed essentials. The day I visited, young people were working on several projects, including a claymation piece featuring a cast of poseable clay figures meticulously shot frame by frame, as well as a number of individual projects primarily intended as self-portraits. Students were without question highly motivated in their tasks, working in small groups and independently on various production components. I was quite surprised to discover that this creative, well-mannered team was in fact a specially assembled class of special education students. The media making experiences were largely devised as a way to build on core English language skills, including word recognition, reading and writing.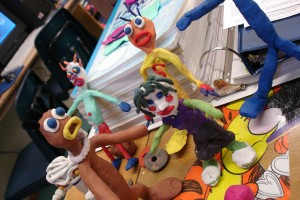 Of course, the glue holding this classroom together is Mr. Bernstein and his palpable concern and commitment to these students. Like a juggler at the circus, Bernstein danced around the room, giving one-on-one support one moment, addressing minor discipline issues the next, instilling in the young artists great faith in their creative abilities. Between interactions with the students, he found time to show off already completed media projects from earlier in the year, including a number of individual student works presented via PowerPoint with the shared title The I Poem Project. Students were given a number of sentences to complete (I see . . ., I am . . ., I touch . . ., etc.) which they paired with images of themselves and their lives. The works were reminiscent of media projects I've seen produced across the country in that a simple common structure gave young people a powerful way to communicate their feelings and needs.
Later, after the students have left for their next class, Bernstein shares with me how transformational media making has been, both for him and the students. He reminds me that, as special education students, these were the young people in the school who, until recently, were viewed as unreachable. While they continue to struggle with academic and social/emotional challenges, through these more creative, inquiry-driven, student centered approaches, Bernstein's class is making progress, especially in their writing skills and reading comprehension. It was rewarding to meet with an educator so inspired, valuing both the academic opportunities these new instructional methods afford as well as the impact it has had on the student's emotional wellbeing.
New Opportunities Ahead
The USC training initiative was not without its challenges and not every classroom saw the kind of transformation Mr. Bernstein's efforts yielded. Teachers applied lessons learned with varying degrees of success – some were able to integrate content and media arts standards while others primarily used media making activities to augment traditional instruction. Student projects also suggest a varying degree of technical skill, media literacy and youth point-of-view. The program has also been a bit of a "pebble in the ocean" – 15 teachers trained out of 78,000 across the district. But perhaps chief amongst these challenges is the fact that funding at present has run out for the initiative. It is hoped that LAUSD has found this initial effort promising and will find other ways to foster media arts integration and professional development of this nature. Regardless, USC's pilot effort has helped underscore a few keys points with regard to media in the classroom:
Professional development experiences are most effective when they allow participants to work in teams and apply lessons learned directly to advance practice.
A comprehensive approach to teacher training is essential and must weave technical skill development along with theory and practice.
Media arts integration requires instructional methods that run counter to the traditional classroom culture but can lead to greater student engagement.
Authentic student voice must be fostered over time through modeling, critical reflection, and openness on the part of the educator to divergent perspectives.
There are a number of new initiatives underway to aid educators in the application of youth media making practices. Adobe Systems Incorporated has just recently launched their new signature initiative, Adobe Youth Voices, which will train educators in Adobe cities around the globe to weave youth media practices in their instruction. A team from EDC is leading the program evaluation. And, this fall, in partnership with Educational Video Center, EDC will be launching the Youth Media Learning Network to link leading media arts practitioners with in-school and afterschool educators through a fellowship program and local peer-to-peer institutes. The lessons learned by USC and LAUSD over the last year can certainly be used to inform and bolster these and other efforts to assist educators. It is indeed an exciting time for youth media, and with awareness of and respect for the youth media tradition to date, we are hopefully at the dawn of a vibrant new era.
Contributed by Tony Streit
Social Share